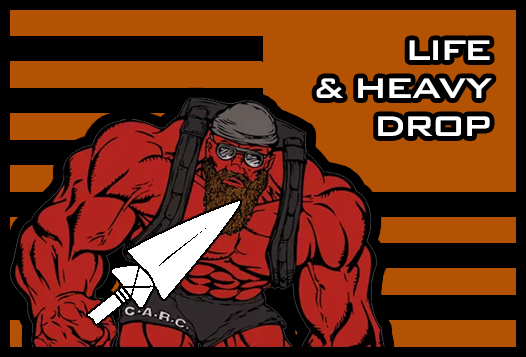 PATHFINDER Life™ & Heavy Drop Training (HDT) Bundle
Regular price $35.00 $29.75 Sale
CHOOSE THE HARDER THING
 because 
NO ONE CARES WHAT YOU CAN DO FRESH
Take your training to a Whole New Level with this PATHFINDER Ruck Training & Heavy Drop Training bundle!
PATHFINDER and Heavy Drop Training are perfect complements to one another and many, many PATHFINDERS have taken both programs together for Maximum Results. Purchase them together and save! Read more about PATHFINDER Life™ training here, and how it's been designed for every athlete.

Heavy Drop is 100% Approved for PATHFINDER ruck workout requirements, so all your effort counts for both programs. Learn more about Heavy Drop Training Program.
SAVE 15% ON BOTH PROGRAMS
1) Purchase the PATHFINDER Life™ Program here, then
2) Go to the Heavy Drop Website and purchase the HDT Program here.**
** If you do not purchase HDT by the deadline your purchase will be refunded. An audit will be performed by both PATHFINDER Ruck Training and CARC to determine those who have completed the required purchases for this discount.
More Bundle Information
PATHFINDER and Heavy Drop Training Bundles are already at a 15% discount so other discount codes won't apply.
PATHFINDER LIFE IS FOR YOU IF YOU'RE...
Just beginning your fitness journey
You're moving into a training "off-season" or maintenance program

You're interested in rucking as fitness but have other current fitness goals or hobbies and seek a flexible, lower-commitment entry point
You're returning from injury or medical absence with a doctor's approval
REGISTRATION INCLUDES
Upon purchase,

 

get an Instant Download of our

 

Program Success Guide
Complete Program Materials, Workout Library, and supporting documentation

Experienced Mentor Course Advisor

 

who has successfully completed this training 

to assist in your planning and provide accountability
Access to

 

private Facebook Class Page

 and Course Advisor Group

One (1) Complimentary Standard Tan Blank Roster Patch

 

to write your Roster Number on and wear while you train. PLEASE NOTE: You must Order Separately

 

- Add one to your cart here in order to receive this item.
Exclusive

 

Finisher's Patch

 

(upon successful completion of the program)