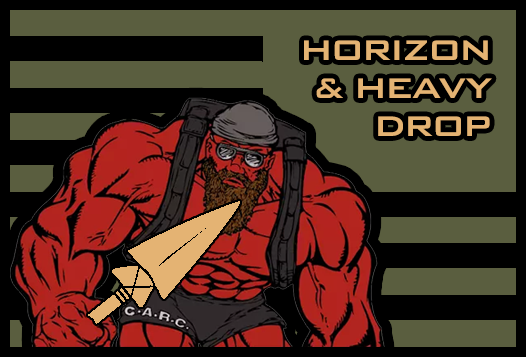 PATHFINDER Horizon™ & Heavy Drop Training (HDT) Bundle
Regular price $60.00 $50.99 Sale
CHOOSE THE HARDER THING
 because 
NO ONE CARES WHAT YOU CAN DO FRESH
Take your training to a Whole New Level with this PATHFINDER Ruck Training & Heavy Drop Training bundle! PATHFINDER and Heavy Drop Training are perfect complements to one another and many, many PATHFINDERS have taken both programs together for Maximum Results. Purchase them together and save! Heavy Drop is 100% Approved for PATHFINDER Horizon™ core and full-body ruck workout requirements, so your efforts count for both programs. Learn more about Heavy Drop Training Program.
SAVE 15% ON BOTH PROGRAMS
1) Purchase the PATHFINDER Horizon™ Program here, then
2) Go to the Heavy Drop Website and purchase the HDT Program here.**
**If you do not purchase HDT by the deadline your purchase will be refunded. An audit will be performed by both PATHFINDER Ruck Training and CARC to determine those who have completed the required purchases for this discount. PATHFINDER and Heavy Drop Training Bundles are already at a 15% discount so other discount codes won't apply.
PROGRAM PURPOSE
Training, conditioning, physical and mental preparation, and team skills development in order to successfully complete the GORUCK Star Course Event, 50 Mile Distance, as well as Star Course shorter-distance events, marathon distance rucks, timed 12-mile ruck standards, or any other long-haul endurance event with a weighted ruck.
FORMAT
Horizon is a fully-programmed twelve-week training package that progresses on a week-by-week basis. Each week contains:
Short Mileage Days
Long Mileage Days
Prescribed Full Body Ruck and

Core Conditioning Workouts (HDT workouts qualify)

Mobility and Flexibility
Rest and Recovery
PROGRAM REQUIREMENTS
Over a twelve week period, you will complete the following:
175 Rucking Miles, programmed weekly
24 Workouts, ruck, core, and mobility; programmed weekly
4 PATHFINDER Challenges
PATHFINDER HORIZON™ CHALLENGES
There are only four (4) Challenges for Horizon and they are all required for completion. The Challenges are already scheduled into your weekly programming. They are as follows:
Timed Weighted Ruck
Weighted Long Distance Ruck
Conditioning Ruck
Navigation Ruck
PREREQUISITES
None, but it is STRONGLY SUGGESTED that you already have the discipline to maintain regular fitness activity six (6) times a week.
CLASS DATES
PATHFINDER Classes begin on the 1st of every month and run for 12 weeks.

REGISTRATION INCLUDES
Upon purchase,

 

get an Instant Download of our

 

Program Success Guide
Complete Program Materials, Workout Library, and supporting documentation

Experienced Mentor Course Advisor

 

who has successfully completed this training 

to assist in your planning and provide accountability
Access to

 

private Facebook Class Page

 and Course Advisor Group

One (1) Complimentary Standard Tan Blank Roster Patch

 

to write your Roster Number on and wear while you train. PLEASE NOTE: You must Order Separately

 

- Add one to your cart here in order to receive this item.
Exclusive

 

Finisher's Patch

 

(upon successful completion of the program)
REQUIRED GEAR